January 1, 2022
3 min read
Gather your girls
6 THINGS TO DO WHEN YOU GATHER
Girl's getaways are quickly becoming highlights of the year and we may just become one of your favorite places to gather up.
We offer these suggestions:
Kiss a Kangaroo
Laugh with a Kookaburra
Get up close with a Camel
Eat all the doughnuts
Sail through the air
Recharge with country comfort food & surroundings
You know we had to make ourselves stop the list there right?
We could go on and on.
KISS A KANGAROO, LAUGH WITH A KOOKABURRA & get UP CLOSE WITH A CAMEL
The first two on that list can be checked off with a visit to Kentucky Down Under Adventure Zoo.  Interactive is what they do best and they are open year round. They have 75 acres at the zoo of animal attractions and habitats, plus Mammoth Onyx Cave is also on this property and a tour is included with the price of your ticket. 
And then there's Dutch Country Safari Park where you can get up close with camels, llamas, wildebeests, Watusi, water buffalo, emus, ostriches, goats, hedgehogs and more.
Photo credits: Kissing a kangaroo by Swetha0903 of Instagram. Surrounded by kangaroos by Lillete of Instagram. Close up with camel by Jordan Strother.
EAT ALL THE DOUGHNUTS
You might think we are being sarcastic when we say "eat all the doughnuts" but when you get to the Amish Bakery at R & S Grocery or Farmwald Dutch Restaurant & Bakery, we're pretty sure you'll understand the goal.
Pro tip: pacing yourself is the key. Eat one right away, get several to go. Eat one in between each stop. And then there's bedtime.
SAIL THROUGH THE AIR
Sailing through the air can happen at two Hart County locations, Adventures of Mammoth Cave and Hidden River Cave. Adventures of Mammoth Cave is open March through October and offers zip lining, a drop tower, ropes courses and more. Hidden River Cave offers a zip line, plus rappelling down the mouth of the cave itself – please call ahead for 2022 scheduling.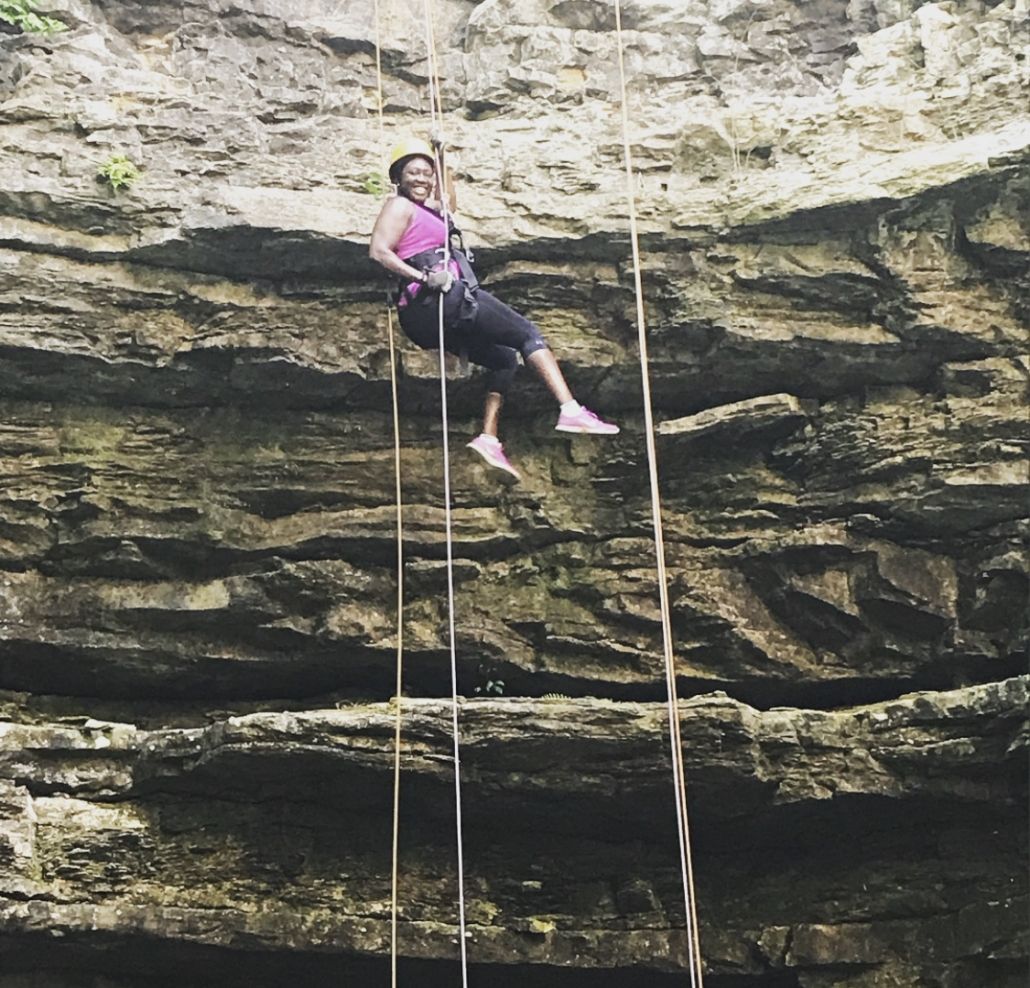 RECHARGE WITH COUNTRY FOOD & SURROUNDINGS
And finally, recharge with a table full of comfort food.  Since it's a female-focused adventure you're on, we'd be remiss not to suggest one of our newest restaurants, 5 Broke Girls.  They have moved here from Texas and have quickly become a local favorite. Their gravy on anything is what you'd like. AND their baked to order spelunker's dessert is chocolatey and creamy at once and you deserve it because you did that cave thing, right?
We have a newly remodeled Holiday Inn Express with breakfast and we have treehouses, cabins, campsites and Conestoga wagons at our local KOA.  Any ex-belongings you have lying around might make some nice fire starter at the campsite. (insert winky face emoji here)
ADVENTURES OF MAMMOTH CAVE
HOLIDAY INN EXPRESS AT HORSE CAVE, KENTUCKY
CONESTOGA WAGONS AT HORSE CAVE KOA IN HORSE CAVE, KENTUCKY