December 14, 2021
4 min read
Horse Cave/hart County Tourism Tracks Significant Growth In Visitors To County's Amish-Owned Businesses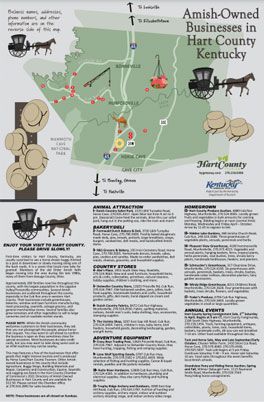 December 2021 – Horse Cave/Hart County, Ky. – Visitors are taking notice of Hart County's Amish-owned businesses following launch of a map highlighting the Amish community created by Horse Cave/Hart County Tourism. The Amish population in Hart County is the 8th largest in North America and often referred to as "the fastest growing Amish community in America."
Of the 200 Amish families living in Hart County, several own businesses including bakeries, greenhouses, general merchandise stores and a newly opened animal attraction. To accommodate the growth in visitors, the owners of Farmwald's Restaurant & Bakery, Dutch Country Safari Park and R&S Grocery and Amish Bakery are adding staff, space and offerings:
The November 11 re-opening of Farmwald's Restaurant & Bakery was followed by the biggest Friday and Saturday for the business to date. Farmwald's recent addition of 4,400 sq. ft. added meeting space that can be reserved and created an atmosphere where people can eat, shop and relax, says Farmwald's Restaurant and Bakery Owner Joe Farmwald. Open Mon.-Sat. 5 a.m.-6 p.m., there are now extended hours to 8:30 p.m. for Amish Wedding Dinners on Wednesdays and Fish Dinners on Fridays.
Located less than five minutes from Farmwald's, Dutch Country Safari Park opened in April with a 3/4-mile drive-thru exotic animal safari and small animal petting zoo/encounter area. The safari park experienced 10,000 visitors during the first six-month season, which closed Oct. 30. Sandra Wilson, executive director, Horse Cave/Hart County Tourism adds, "As the season went on, owner Michael Troyer and his family added Humpback Overpass, a large-animal feeding-area bridge; expanded the playground and picnic area; and added a hayride, which they plan to continue next season." Dutch County Safari Park will open for 2022 March 17.
About 5 miles north just off US 31W, things are baking at R&S Grocery and Amish Bakery. To meet customer demand at the 20,000 sq. ft. facility, additions include a bakery manager and new freezer house says owner Susan Miller. Pictured are Christmas donuts, which are a new addition at R&S for the holiday season. R&S is open Mon.-Sat. 8 a.m.-6 p.m.
"We are thrilled to see so many people enjoying the unique offerings found at Hart County's Amish-owned businesses," adds Wilson. "It's very significant to note that the biggest days for Farmwald's Restaurant and Bakery occurred outside of the regular tourist season, Dutch County Safari Park had such a successful first six months, and that R&S Grocery and Amish Bakery is hiring and expanding. We have no doubt we will hear positive words over and over again from owners of our Amish businesses and travelers will have even more reasons to stop by on their drives via I-65.".
The Horse Cave/Hart County Amish businesses map, which can be downloaded on KyGetaway.com, features nearly 20 businesses that might interest tourists. Available in tear-off or brochure-folded styles, the maps are also available at the I-65 Hart County Tourist Info. Ctrs., Mammoth Cave National Park Traveler Info. Ctr. and local brochure racks.
About Horse Cave/Hart County Tourism – Hart County, located in south-central Kentucky, is dotted with gently rolling hillsides and steep "knobs" in the county's rural countryside, as well as caves, sinkholes and underground streams. A dream for water adventure lovers, Nolin River forms the western boundary of the county, and the Green River winds through the center, flowing east to west in a series of loops and bends. Hart County contains five of Kentucky's ten largest springs, including Gorin Mill Spring, the largest in the state. To learn more about Horse Cave/Hart County, please call 270.218.0386 or visit Facebook, Instagram, Twitter and YouTube.
Media Contact: Debra Locker 859.536.0282 + [email protected]