Paddling the Green River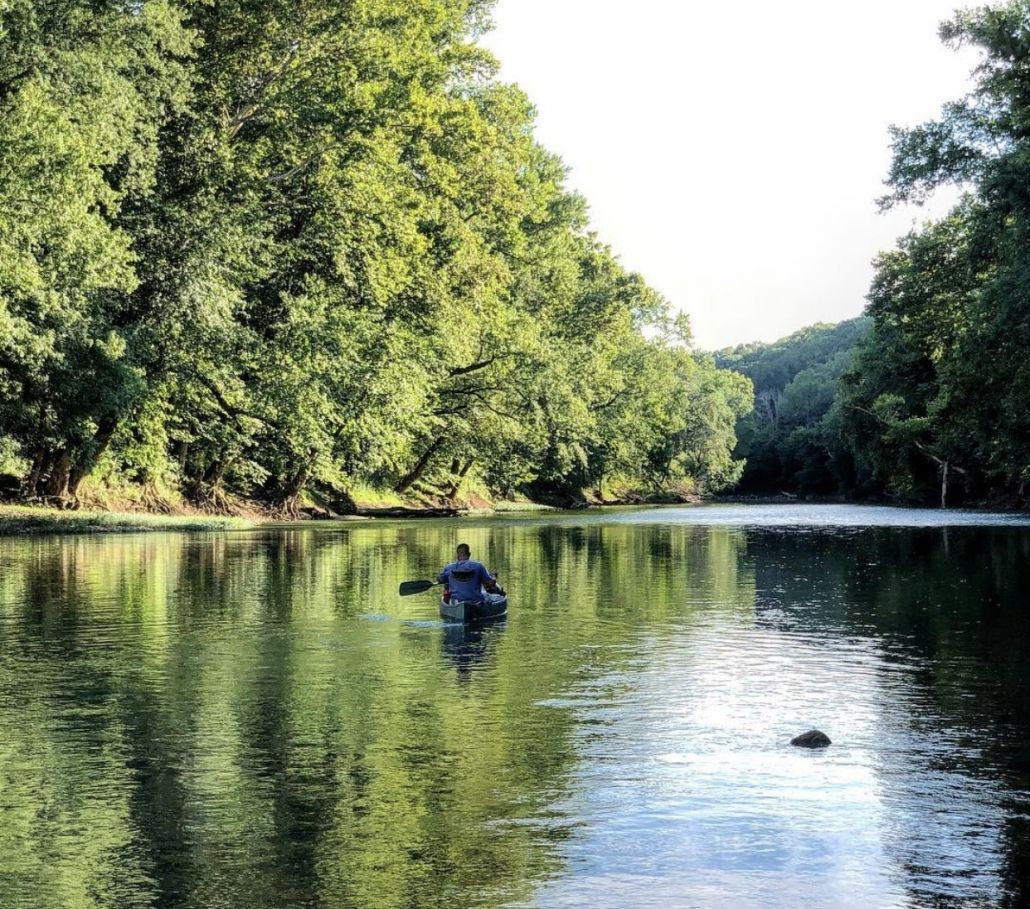 Guest Blogger: Rachelle Wright, Project Director of Cave Country Trails
Americans have been split down the middle when it comes to outdoor recreation. According to the Outdoor Foundation's 2019 Outdoor Participation Report, about half of the U.S. population participated in outdoor recreation at least once in 2018.
During quarantine, however, it seems like those neck-and-neck statistics are changing with outdoor recreation being on the rise. With the nation under stay-at-home guidelines, outside has been one of the few options that have remained open.
There are multiple paddling opportunities in our area. Rainfall makes paddling in the spring hard to plan, but if you can catch the rivers right, you can find some of the best waterways in the nation.
The most popular waterway in our region for paddlers is the Green River. Its headwaters begin in Lincoln County with the convergence of three streams, and it spills into the Ohio River in Henderson, Kentucky. In our region, paddlers can start as far north as Lynn Camp Creek in Hart County and "take out" as far south as Alexander Creek in Edmonson County.
Green River winds through the center of Hart County, flowing east to west in a series of loops and bends. Hart County contains five of Kentucky's ten largest springs, including Gorin Mill Spring, the largest in the state. The section from Lynn Camp Creek to Munfordville is usually an overnight trip. This stretch includes the 300 Springs Waterfall – accessible only by boat – numerous springs, blue holes and sand bars. PLEASE NOTE: Lynn Camp Creek's launch is on private land. To arrange access with them, please call 270-537-4727.
This section of the Green can also be broken up in several day trip options: Lynn Camp to Rio; Rio to Johnson Springs; Johnson Springs to Thelma Stovall Park in Munfordville.From Munfordville you can also launch another overnight trip into Mammoth Cave National Park. From the Mammoth Cave boundary on, there are multiple trip options, ranging from four miles to 29 miles. These begin with Dennison's Ferry and as we mentioned earlier, run to Alexander Creek.
The Nolin River also flows into the Green River in Mammoth Cave National Park and therefore increases the paddling options, as well. Paddlers can begin just below the dam at Nolin and merge onto the Green to stop at either the Houchin's Boat Ramp, Brownsville Boat Ramp or the Alexander Creek Ramp.
There are three liveries licensed to put boats on the rivers in Mammoth Cave National Park, and they are a great source of information when planning your paddle.  They are: Cave Country Canoe, 270-773-5552; Green River Canoeing, 270-773-5712 or 270-590-5335; and Mammoth Cave Canoe and Kayak, 270-773-3366 or 877-59-CANOE.  Big Buffalo Crossing Canoe and Kayak, is also a livery in Hart County, their number is 270-774-7883.
Moving past the Green River, there are also multiple trip options along the Barren River and Drakes Creek. Beaver Creek in Glasgow, also has a three mile stretch for paddling. Of course, the two lakes of our region, Nolin and Barren, see paddlers throughout the spring, summer and fall. Go to cavecountrytrails.com for more information on a variety of paddling options. Keep watching for future articles on cycling and horseback riding.
Cave Country Trails, Inc is a non-profit that focuses on creating a regional network of biking, hiking, equestrian, and water trails to connect communities and make the Mammoth Cave Area and South Central Kentucky a more attractive destination and place to live. This initiative promotes healthy lifestyles while attracting visitors and new businesses, managed with local flavor, resulting in regional economic growth. They can be reached at [email protected]