January 27, 2022
5 min read
Choose Your Kentucky Caves Adventure
First-time visitors to the "cave country" of central Kentucky might justifiably feel overwhelmed by all the billboards and brochures selling various cave tours. How do we choose? Are they all the same? As the planner, budgeter, and schedule-keeper on my family's epic RV adventure through all 50 states I admit I thought, "A cave is a cave–we don't need to see more than one, right?"
But one by one we were drawn in until we had explored three different caves in Kentucky, and BOY HOWDY was my naïve notion proved wrong. To our surprise and delight, each cave experience was completely unique!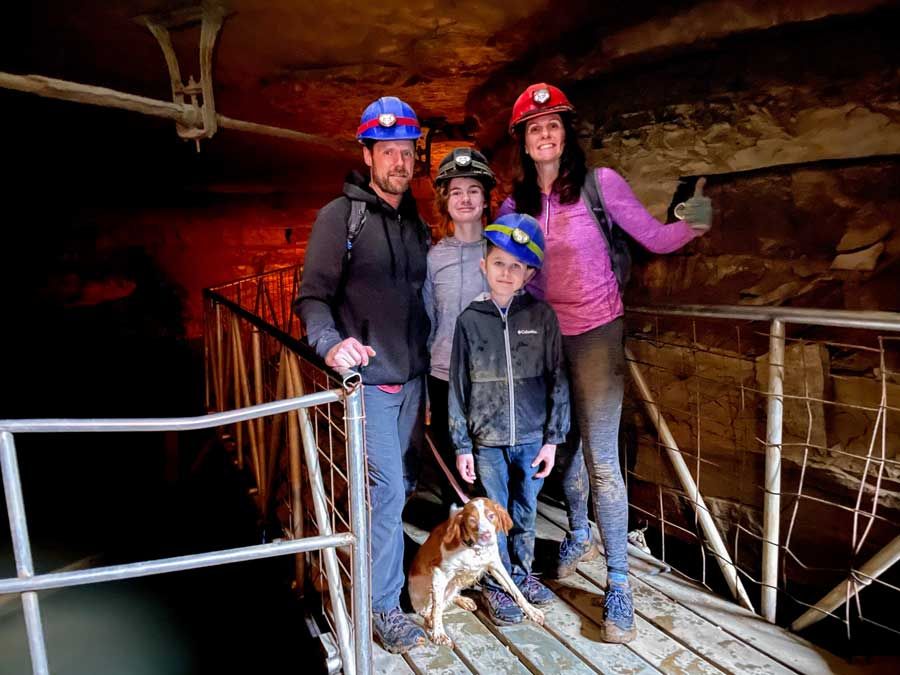 Like many, presumably, our original destination in central Kentucky was Mammoth Cave National Park. While there are normally many different tours of unique passageways and formations within this 420-mile cave system, offerings were limited due to Covid-19 when we visited. We snagged a spot on the Mammoth Passage tour, which is simply a guided version of the self-guided tour and sticks to broad walkways and open areas.
The massive, domed chambers of Mammoth were a humbling sight due to their sheer size. The fact that these rooms, several stories tall, are naturally self-supported is an absolute wonder. We were assured that they could not collapse on us, but it was still a tad unnerving!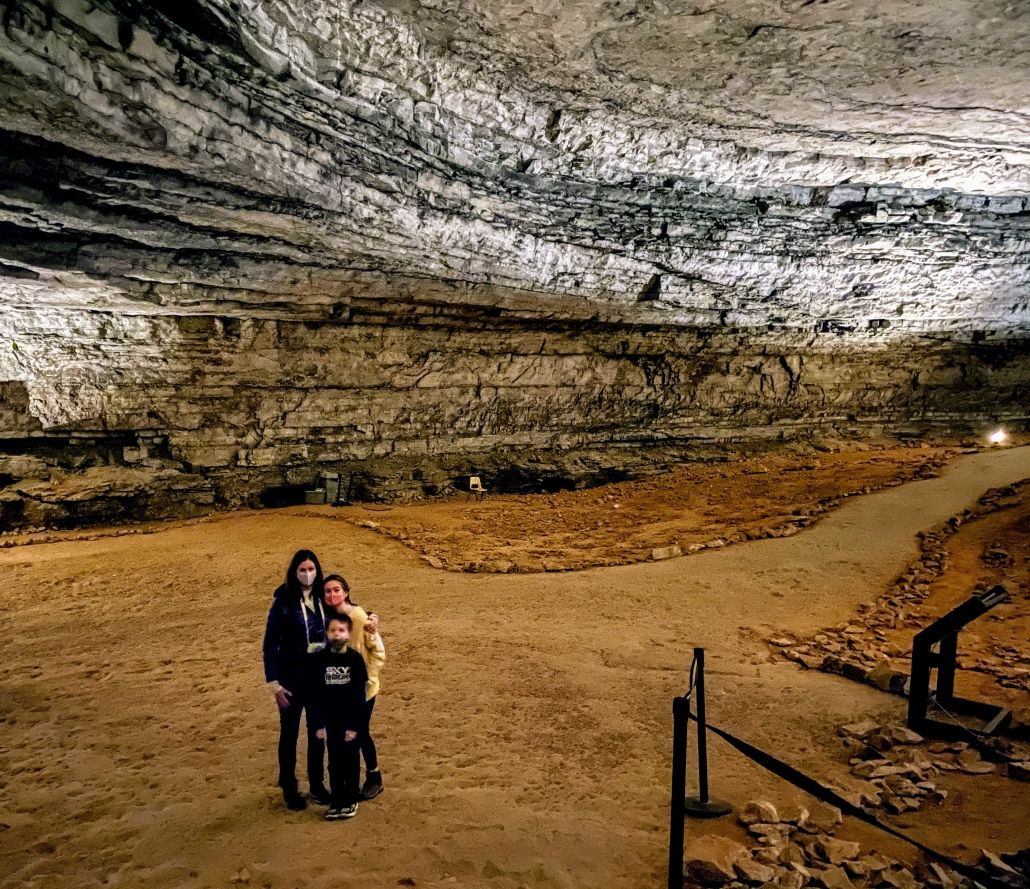 Our son approached the National Park Ranger and asked if he would switch off the electric lighting so we could see his light-up soled shoes. In the pitch dark, he did a little dance so his feet sparkled neon green and blue. Our human eyes almost never experience true, complete darkness, so this was a cool moment. I suggest you ask your Ranger guide to cut the lights as well and hope he or she is just as happy to oblige!
In our research, we learned that Mammoth Cave also has beautiful waterfalls, passageways filled with gypsum flowers, huge columns and rim stone dams hidden throughout the 400-plus miles of passageways. Knowing there's a lot more than we had the opportunity to experience makes us want to come back for another visit!
QUICK TIP: In Mammoth Cave National Park, cave entry is by ranger-led tour only, which must be booked in advance at recreation.gov. Tours are not very expensive (most are between $10 to $25 per person) but they are commonly booked out several days ahead.
For our final cave experience in Kentucky, we went for the true adventure with real, honest spelunking!
There were no paved trails, handrails, or electric lights for this tour of Hidden River Cave in Horse Cave, KY. All that was required were a wild cave expert, head lamps, and hard hats (all three were definitely needed and used!) Our expert guide Keith was topnotch—patient, sweet, knowledgeable, and engaging. He even carried our pooch when she needed help crossing an underground river. (YES-we were thrilled to learn that this tour is dog friendly, so go ahead and bring Fido!)
The real journey began after we crossed the world's longest underground bridge. As we clambered over rocky terrain, our daughter spotted a tiny bat, which we learned are rare in this cave. We got to see a bunch of blind crawfish and caught a glimpse of a ghostly, purplish eyeless fish – fauna that reside only here in the depths of a lightless environment.
My son and I took Keith's challenge of doing a couple of "crawls," which means we wormed our bodies through a narrow passageway, too tight for navigating on all fours. I wouldn't recommended for the claustrophobic visitor, but I just kept breathing calmly and pulling myself forward inch by inch. It was worth it for the thrill we felt scrambling out into secret rooms only the most adventurous have laid eyes upon!
The Wild Tour was one of the most fun and exciting adventures we've experienced during our full-time travels of the USA. My kids give it five stars—high praise from a 14- and 8-year old. If you're looking for legitimate adventure off the paved path, this is it!
The staff at Hidden River Cave was extremely friendly and helpful from start to finish and all the necessary equipment is provided. Be sure to plan ahead, because the Wild Tour needs to be booked 48 hours in advance. There is an excellent cave museum on site, which we perused when we dropped in to make our reservation. I highly recommend taking time here to enhance your overall Kentucky caving experience!
But guess what folks, Central Kentucky isn't ONLY for cave explorers!
Patriots and history buffs alike will relish the opportunity to visit Abraham Lincoln Birthplace National Historical Park in Hodgenville, KY. In addition to the highly engaging exhibits in the visitor center, a "symbolic log cabin" within the memorial pays homage to the humble origins of one of this country's greatest presidents, born right here in Kentucky. And if your kids are into the National Park Junior Ranger program like my son, they'll be thrilled to earn a golden metal Junior Ranger badge at this park. (All the others he's earned have been plastic or wood.)
Kentucky Down Under is also a blast for families. This "Adventure Zoo" might just be the only place in the U.S. where you can feed a kangaroo, have a lorikeet sit on your head, and observe a dog herding sheep all on the same day. In addition to all the interactive animal encounters, you can also investigate Mammoth Onyx Cave, where you are sure to be in awe of the glistening, flowing formations!
With so much for families of all kinds to explore and to learn, we can't wait to come back to central Kentucky!
Kristen Winter and her family have recently completed their journey through all 48 contiguous states while living in their RV. They had lots of fun adventures along the way.
Check them out at Instagram @renegadewinters.